Public Art
The Seattle Convention Center's public art program, one of the first of its kind in the nation, was established to provide an environment that enriches the experience of all who visit the meeting facility. Founded by Phyllis Lamphere, the art program has been a popular feature since the Center opened in 1988 and features over 100 works. Initially, art was incorporated into the building design as part of the State's Percent for the Arts program. Since then, SCC has developed an ever-changing collection, readily accessible at no charge to the public. 
 
---
PHYLLIS LAMPHERE: A LEGACY OF ART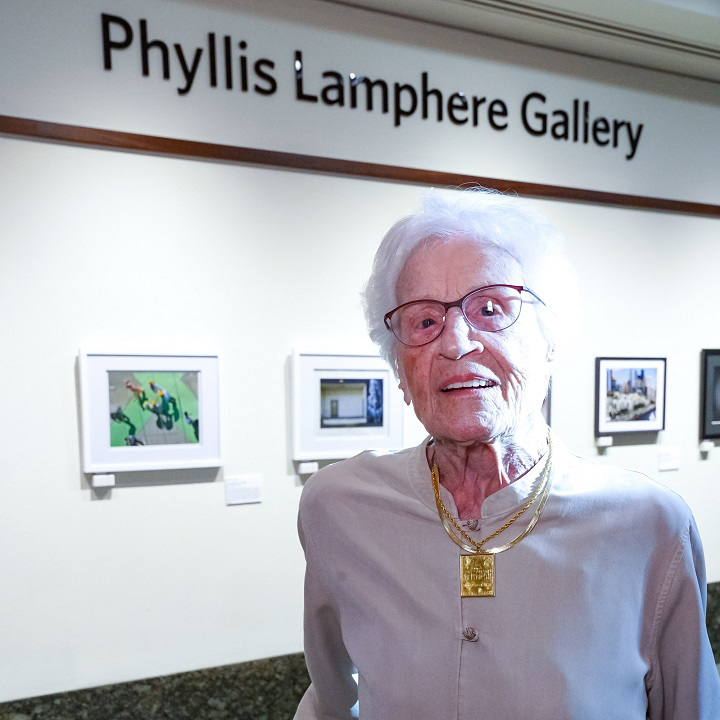 The Public Art Program was founded by Phyllis Lamphere, in keeping with the state legislature's mandate that the Center "provide both direct and indirect civic and economic benefits to the people of the State." In 1998, the WSCC Board of Directors established the Washington State Convention Center Art Foundation, at Ms. Lamphere's recommendation, and in 2017, the Level 2 Public Art Gallery was officially dedicated as the Phyllis Lamphere Gallery in her honor.
---
PERMANENT COLLECTION
Our notable permanent collection consists of gifts and long-term loans from artists, galleries, other governmental entities, corporations, foundations and private collectors. Well-known artists represented include Alfredo Arreguin, Hilda Morris, Alden Mason, Jenny Holzer, James Washington, Jr., Tony Angell, Margaret Tomkins, Kenneth Callahan, Michael Spafford, Richard Gilkey, Guy Anderson, Ron Hilbert, Paul Horiuchi and Nancy Mee.  Some of the most popular works include Lebeg (Ann Gardner), Games (Jacob Lawrence), The Spirits Within (Alfredo Arreguin) and "A" Procession (Patty Warashina). 
---
ROTATING EXHIBITIONS
Quarterly rotating exhibitions provide a diverse array of local artists' works, creating an ever-changing tapestry of talent. These shows are booked approximately two years in advance, following a screening process with the SCC's Art Advisors. Nearly 200 exhibitions have been featured in the Phyllis Lamphere Gallery on Level 2 of the facility, since 1991.